VetFran Helps Soldier Become Multi-Unit Which Wich Franchisee
Tell us a little bit about your background.
Maquinalez: When I first graduated from Texas State, I went to my officer basic course for the U.S. Army. Immediately after training, I was told I was going to Afghanistan. When I got back, I realized I had no job. I joined the Police Academy and realized it wasn't for me. I met a guy who was selling a Which Wich and decided to invest. I had eaten Which Wich sandwiches in college so I knew the product was good. For me, coming out of the military and not having a lot of business experience, franchising was a great fit. The military is all about procedures and execution. Being part of a franchise is similar — they already have a good product and there are already operating procedures in place. So, franchising is a perfect fit for a soldier.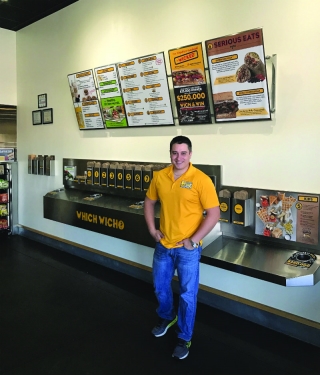 What was your experience with IFA's VetFran program?
Maquinalez: When I bought the first store, we heard about the VetFran program and it seemed great because it pushed me over the edge to dive into Which Wich. Attracting veterans is a great thing. Veterans are going to be your perfect franchisee. Soldiers are trained to follow orders. As a franchisee, you're your own boss, but there's a common operating picture that Which Wich lays out to uphold the brand standard. Soldiers are used to following orders and upholding a standard.

How did your military experience prepare you to be a successful franchisee?
Maquinalez: I had been an officer my entire career in the military. I'd been sent to multiple leadership schools — my entire job was to be a "jack of all trades" and manipulate soldiers on the battlefield. Having that broad management ability to get things done and delegate tasks has been a perfect fit for Which Wich. I didn't have to reinvent the standard operating procedure. I had to come in and develop and mentor my team and make sure everything operates smoothly. And a leader in the military comes in to manage, delegate and oversee.
After three years with Which Wich, what's next?
Maquinalez: I'm looking to open an annex to my Mansfield store, which is about a mile down the road inside the break room of Mauser Electronics ( 1,500 employees on that campus). We'll prep and slice at the Mansfield store; there will be ovens and a line at Mauser. The company's CEO eats with us all the time and came through and said he wanted to build it. He's been eating with us for a long time. The CEO said 'everybody likes your food, let's put it in!'"
To read the full segment, click here.
Posted By
Hala Habal
Learn why Which Wich is superior to its competition, click here