Which Wich sandwich shop to open in Fountain City
From the first bite at Which Wich in Nashville, Jeff Hensley knew they had found the perfect restaurant for Knoxville. "My wife and I spent six months researching franchises when someone mentioned Which Wich," said Hensley. "Amy and my two kids all got something different. My kids just looked at me and said 'this is the one.'"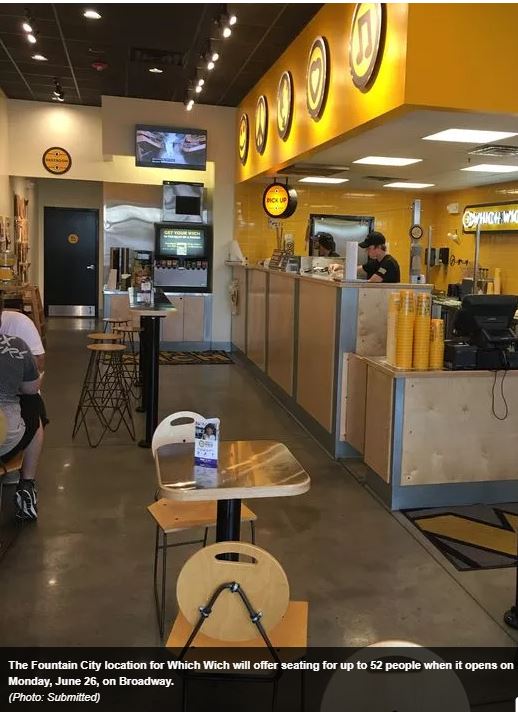 After opening Oak Ridge and Cedar Bluff locations in 2015, then a third store in Alcoa in May, Hensley said they are ready to open in Fountain City on Monday, June 26.
Which Wich is known for its unique ordering system. Customers use red Sharpie pens to mark up preprinted menus on sandwich bags. To "build your own," select the bread, cheese, spreads, and up to 60 toppings. Sandwiches come in small (7 inch), medium (10.5 inch) and large (14 inch) sizes. "Customers have all the time they need to select the ingredients and hand in their order on the bag," said Hensley. "There's not that pressure."
The sandwiches are then prepared, and delivered in the personalized sandwich bags. In addition to the variety and ability to customize, Hensley was impressed by how fresh everything was. "We slice our vegetables and meat daily as part of our morning prep," said Hensley. "We probably have one of the best milkshakes made with real ice cream. When I had the milkshake, that's when I made my mind up (about the franchise)." Other sweet treats include warmed cookies.
Those on a gluten-free diet can order any sandwich in a lettuce wrap. Any sandwich can be made into a salad or rolled up in a spinach tortilla. There is a children's menu that offers the usual deli sandwich options, grilled cheese, PB&J and a "Pizzawich". Sandwiches come in bread or as a "roll-up" with a side of apples and carrots, choice of drink and yellow candies.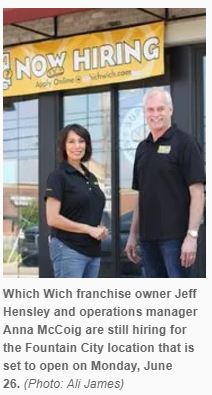 "So many people are nuts about our olive salad which comes on our Muffuletta, but you can put it on any sandwich. Our hot pepper mix and avocado are popular too," said Hensley.
The "Faves" menu includes a Philly Cheesesteak, Ultimate BLT, Cobb salad wrap, Gyro, Meatball grinder, Italian club, the Reuben and "Superfood Which" – a spinach tortilla wrapped around a vegan black bean patty.
While the build your own option is popular, Hensley attributes up to 38 percent of his Alcoa store sales to the "Faves" menu and the "Wicked," which features five types of meat and three cheeses.
"I tried to get into Fountain City first, but it was full until someone came along and built a new center," said Hensley. "It's a really unique area with its own buzz. I live just 10 minutes from here and most of the staff we hired live in the area."
Which Wich will have seating for 52 people, including outdoor seating. Hours will be 10:30 a.m.-9 p.m. Sunday through Thursday and 10:30 a.m.-9:30 p.m. Fridays and Saturdays.
Which Wich also offers catering and delivery service for large orders. Which Wich was founded in 2003 by Jeff Sinelli and currently has 500 locations open or in development in 39 states and 12 countries. "We have circles on the map and we're in conversations," said Hensley of future openings.
To view the whole segment, click here.
Posted By
Learn why Which Wich is superior to its competition, click here