Which Wich Donates Over 14,000 PB&Js to Salvation Army
Jeff Sinelli, founder, CEO and chief vibe officer of Which Wich Superior Sandwiches, created the company's philanthropic campaign Project PB&J with the motto of making the world a better place one PB&J sandwich at a time. On Friday, the company continued that mission to the tune of more than 14,000 PB&J sandwiches donated to Salvation Army DFW.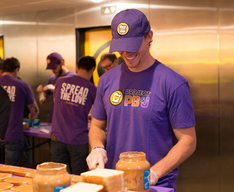 "The idea for Project PB&J was born right here in our home of Dallas, so we are proud to aid in the battle against hunger for those in the Dallas area," says Sinelli. "Our mission to spread the love continues and we look forward to providing the tremendous comfort and aid that a simple PB&J sandwich can offer to those in need all over the country."
The award-winning fast casual concept celebrated National PB&J Month in April and offered guests PB&J sandwiches for two dollars, with a matching sandwich donation banked for charity. Today's "Spreading Party" to make more than 1600 PB&J sandwiches and the donation of product to make more than 14,000 additional sandwiches will help feed hungry Dallas residents for months to come.
During the month of April, Which Wich markets throughout the country hosted Spreading Parties and promoted the goal to "spread the love" in their local communities. For more than three years, Which Wich has continued efforts to transform the brown-bag lunch staple into a way to help feed those in need and inject a more positive vibe across the country.
"It's been a rewarding experience for all of us to give back in this unique way with sandwiches made with simple peanut butter and jelly, but also with a whole lot of love," says Sinelli. "We've been able to make a positive impact already, but we are only getting started."
Project PB&J was founded by Sinelli in 2014 to help battle hunger in the brand's hometown of Dallas and across the country. PB&J was the first wich created for the brand, and Sinelli and his wife Courtney chose to use it as a way for Which Wich to show its support for those who are less fortunate. Through Project PB&J, for every PB&J sandwich purchased at a Which Wich location, one is also donated to a local charitable organization, and another is banked in the brand's global fund for emergency situations. Charity partners through the program include Boys and Girls Clubs, The Salvation Army and homeless and emergency shelters.
To watch the full segment, click here.
To read the full story, click here.
Posted By
Learn why Which Wich is superior to its competition, click here